5 Reasons Older Adults Should Walk More Often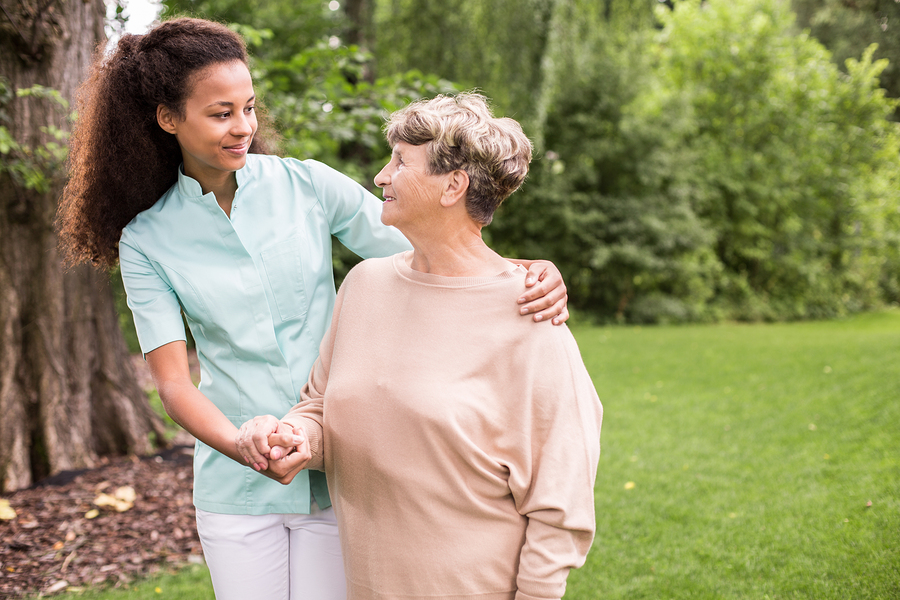 Your aging relative probably knows that being more physically active is important for good health. However, they may lack the motivation to get moving. Walking is an excellent form of exercise for older adults. It's low impact and costs nothing to do. If you need some help convincing your senior family member to go for walks, below are 5 reasons they should walk more often.
#1: Walking Could Increase Lifespan
Scientists have found that as little as 15 minutes of physical activity per day can result in living 3 years longer. It can also keep people younger. Researchers at Brigham Young University discovered that people who exercise regularly have a "biological age" that is an average of nine years younger than those who don't exercise. Although the recommended amount of exercise is a minimum of 150 minutes per week, any amount of walking has been associated with reduced mortality risk.
#2: Walking Reduces Chances of Becoming Disabled
Walking has been associated with a lower chance of developing mobility problems that can result in loss of independence. And, it's never too late to get started. One study that was published in the Annals of Internal Medicine showed that when seniors who don't move around much start walking, they cut their risk of becoming disabled and improve their ability to recover from injuries.
#3: Control Blood Sugar Levels
If your aging relative has diabetes, going for walks can help them to lower their blood sugar levels. What's more, taking shorter, more frequent walks may be even better than taking one longer one. In one study, researchers found that walking 15 minutes three times per week lowered blood pressure more effectively than one 45-minute walk.
#4: Sleep Better
About half of all people over the age of 65 have trouble sleeping. Walking can help seniors to fall asleep more easily at night. Research indicates that the morning may be the best time for a walk since it exposes the older adult to light early in the day, which can reset their circadian rhythm.
#5: Maintain a Healthy Weight
Walking is an excellent way to lose weight or stay at a healthy weight. Physical activity burns calories. When your aging relative walks, how many calories they lose will depend on several factors, including:
How fast they walk.
How far they walk.
How hilly the terrain is.
Their weight.
If your older family member is ready to start walking, senior care can make it more enjoyable and keep them safe. A senior care provider can offer companionship and conversation while walking, which can make it seem less like exercise and more like time spent with a friend. While walking, senior care providers can watch for potential fall hazards and lend a steadying arm to lean on.
If you or an aging loved-one is considering Senior Care in Gardena, CA please contact the caring staff at American Geriatric Care Management, LLC today at (310) 648-0614.
Sources
https://www.aarp.org/health/healthy-living/info-2019/good-reasons-to-get-walking.html?intcmp=AE-HP-TTN-R2-POS4-REALPOSS-TODAY
https://www.healthline.com/health/benefits-of-walking
American Geriatric was founded from personal experience of Ellen. Originating from a culture-rich country and strong family ties, Ellen felt the need of sharing the responsibility of taking care of the elders of the family. Growing up with the grandpas' and grandmas' love and care, spoiled with kisses and gifts and advice gave her the passion for returning the care.

In June 2011, American Geriatric was incorporated.It started out with a few staff. With the increasing number of clients signing up for in-home care, it expanded its network and multiplied the number of care providers to accommodate the need. In January 2012, health coordination and family dynamics support services were offered to cater to a more complex care needs of the elderly.

American Geriatric is now a full-fledged licensed Home Care Organization regulated by Home Care Services Bureau of California Department of Social Services, in full compliance with AB1217, The Home Care Services Consumer Protection Act.
Latest posts by Ellen Samson (see all)