Alzheimer's Disease and Structured Days: What Do You Need to Know?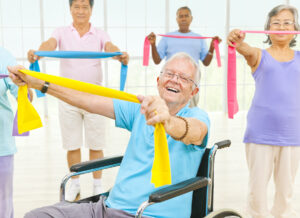 If you are caring for a loved one who has Alzheimer's disease, there are many things you should know that could help things to go smoother. One of these things is that people with this disease often do better with having their days structured. There are many ways that you and caregivers can help to add structure to your loved one's life.
Creating Routines 
One of the best ways to add structure to your loved one's life is by creating routines. It is helpful to create daily routines that work well for your loved one. They should have times that they wake up and go to bed and specific times for meals. Creating routines will help your loved one to stay independent and help them to remember things, as well.
Doing Chores 
Another way to add structure to your loved one's life is by having them help with chores. Depending on the stage of Alzheimer's disease that your loved one is in, they can do a variety of chores. They might be able to help you clear off the table after dinner, set the table before meals, fold towels and blankets, or dust. Find some chores that your loved one can do and put those into their daily schedule.
Exercise 
It is important that your elderly loved one exercise on a regular basis, as well. This will help to reduce anxiety, stress, and depression. It will also help to improve their mood and the quality of their sleep. Walking is a great exercise for those with Alzheimer's disease. However, so your loved one doesn't wander off or forget where they are at, you or their caregivers might want to join in on their walks.  
Art and Music 
It would also help your loved one to have some extracurricular activities planned in their schedule, too. Art and music have both shown to be beneficial for those with this disease. Art can help reduce frustration, isolation, and sadness. Music can boost one's mood and energize your loved one, as well.
Getting Outdoors 
Going outside can be another thing that you plan into your loved one's routine. Maybe go for a walk in the morning after breakfast or take an evening stroll before dinner. If the weather permits, you can benefit your loved one by taking them outside. It can boost their mood, bring happiness into their life, and much more.
These are some of the ways that you can structure your loved one's days. Start using these tips to help your loved one feel better every day.
If you or an aging loved-one is considering a Caregiver in Torrance, CA please contact the caring staff at American Geriatric Care Management, LLC today at (310) 648-0614. 
Sources
https://www.nammfoundation.org/articles/2014-06-01-why-play-music-seniors?gclid=CjwKCAiA66_xBRBhEiwAhrMuLQ1XMmQrrEtT-KkCeF8PcmTxOb4XNNbALEg6TcPRaX6MUqQGk_5YFRoCnTsQAvD_BwE
https://www.ncbi.nlm.nih.gov/pmc/articles/PMC6025004/
https://www.ncbi.nlm.nih.gov/pmc/articles/PMC4812200/
Latest posts by Ellen Samson
(see all)