Help Get Your Mom Excited About Cooking Again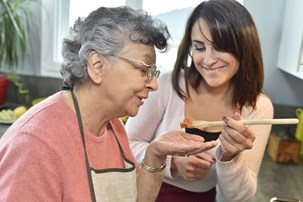 For one reason or another, your mom doesn't like to cook. For some older adults, shifting to cooking for one after cooking for a family is hard. Arthritis in the hands and leg and ankle pain when standing for extended periods also add to the challenge.
If your mom slowed down and stopped cooking as she aged, there are ways to get her excited about cooking again. Here are some of the ways to do it.
Sign Up for Meal Subscription Boxes
One of the benefits of a meal subscription box is that you buy what you need. If your mom is alone, she will only need meals for one person. Ingredients are measured based on the number of meals. Some kits have the ingredients already chopped and ready to use.
All your mom has to do is open packages and follow the directions on the recipe card. She gets to pick her favorite meals from the weekly menu and can cancel the service or pause shipments as desired.
Invest in the Right Equipment
If chopping vegetables is an issue, a food processor can do it for her. Look for one that is dishwasher-safe, providing your mom has a dishwasher. Ergonomic kitchen knives and utensils will be easier for her to hold if arthritis is present.
The other kitchen tool you should look into is a trivet with wheels. When your mom needs to move a hot pan to the sink to drain off the water, she can move it from the stove to trivet. From there, she simply pushes the pan along the counter to the sink. She won't have to hold the hot, heavy pot more than a few inches this way.
Get the Grandchildren Involved
Your mom may be happier in the kitchen if others are helping. Have grandchildren help her out. They'll learn vital life skills, and she gets to bond with them. You can be available to help out when needed. You may find that if you take the harder tasks like mincing onions or peeling potatoes, she's happy to cook.
Choose Easier Recipes
Show your mom how to find recipes that are easier to manage. Instead of complex recipes, she could find recipes with a few ingredients and less preparation. One-pot recipes reduce the amount of clean-up at the end, so they're a perfect choice.
You may not be able to get your mom back in the kitchen. That's okay. Home care services are designed for that. She'll have a caregiver stopping by when needed to cook her meals, do the shopping, and eat with her if she wants. Talk to a home care agency to discuss the best schedule.
If you or an aging loved-one is considering Home Care in Long beach, CA please contact the caring staff at American Geriatric Care Management, LLC today at (310) 648-0614.
Latest posts by Ellen Samson
(see all)